It really sounds cliche (and it is also cliche to start a paragraph like this, hence cliche-ception lol) when we say that time flies so fast. But it really does. Here I am, inching closer to my flight date going back home to the Philippines. Before doing so, I wanted to take a last glimpse of the near escapes that I have been going to here in Gumi, South Korea.
The two nearest city centers to my university (Kumoh National Institute of Technology) would most probably be Okgye-dong and Kumi-yok. Okgye-dong is much nearer which only takes 5 minutes by cab. I go here for immediate purchases or if I don't feel like going too far. I also do my groceries often here at Okgye. Kumi-yok (Gumi train station) is farther which is 20-25 minutes by cab but of course, choices are of wide variety. There's a lot of restaurants, coffee shops, international brand clothing shops, and of course the local market.
Starbucks goodies and fatties. Most snacks in Starbucks Korea (and most probably Starbucks in other countries as well, lol obviously) are the ones I can't find in the Philippines. My favorites would be the macarons, greek yogurt, and bacon and gouda artisan sandwhich.
Whenever I'm in need for thrift shopping, I always resort to Gumi Sijang which is located across the Gumi train station. All sorts of clothes (from winter clothes to fancy socks to beanies), souvenirs, delicacies, cosmetics, bags and shoes, etc. can be found here at a much cheaper price. One thing that I surely miss is this stall of rice cakes and fish cakes that is just so perfect in this winter weather. Plus, it won't hurt your wallet much even you devour a lot. I wish I could bring home some of those to the Philippines though.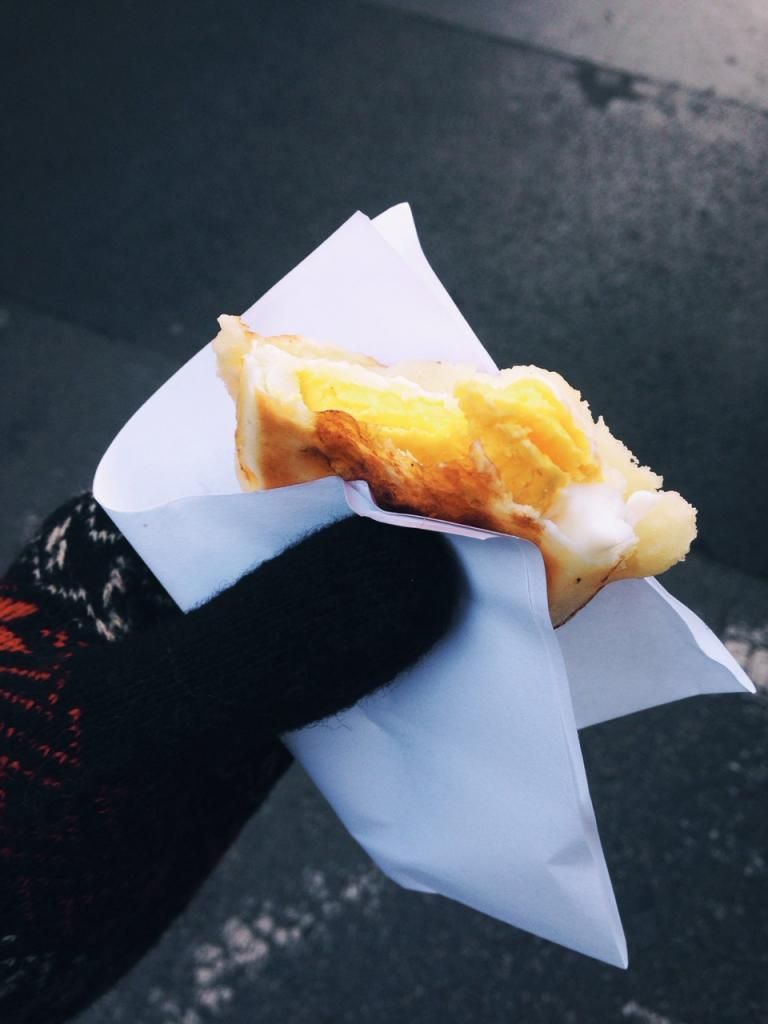 Gyeranpang or eggbread, fresh from the hot plates at Gumi Jung-ang Sijang. I am a bit sad that I've only discovered this a few days before going home.
Still at the market, I rushed to buy some cute socks for presents. I think I bought more or less 10 pairs of these cuties. This is my kind of Christmas tree here in Korea. Kidding! One of the first things I noticed about Korean fashion is that it is amazingly fascinated with printed socks. Everywhere you go whether at high end malls, markets, underground shopping malls, or even street stalls, you will find these adorable feet warmers. The price sails in the same range at all places, approximately 1000-3000 KRW.
I think that's it! A few more days and I'm off to my home land. I ought to say that I really miss my country (and my family and friends) but I never knew that 4 months here in Korea is just enough to make me fall in love with it and make me want to come back some day. Chalga Korea! Annyeong~
Note: This is a collated post from my mini blog which I have been updating regularly.