Let me try to create a sort of "travel-guide-but-not-really-a-travel-guide" for the brothas and sistahs out there who might be interested to have a sight and experience with Burot Beach. Besides, I've got a couple of messages in my inbox asking me about the breakdown of expenses and whatnots of this beach getaway.
TRANSPORT
Burot Beach is located in. Brgy. Silang, Calatagan, Batangas. For consistency, let me assume that you'll be coming from Manila that is approximately 3-4 hours away. Having said that, there are three possible ways (that I know) to get to Calatagan (or Burot Beach in this matter).
via public transportation (or commute)

via van– The van terminal, adjacent the Kabayan Hotel, is located behind the Metropoint Mall which you can reach via LRT line 1 (EDSA Station) or MRT (Taft Ave. Station). It is the same spot where you take a van heading to Balayan, Batangas. Be sure to make it clear that you're heading to Calatagan because there are different routes. Drop off will be at Calatagan Market.
via bus– Grand terminal heading to Calatagan is located beside the Coastal Mall in Paranaque. Ask the condcutor to drop you off the Calatagan market.
NOTE: Fares for both modes will be P180, one way. Earliest trip for van will be 5:00-6:00 A.M. and 4:00 A.M. for buses. When in Calatagan Market, there are a lot of tricycle drivers offering a 15-20 minute ride to the beach. Negotiate if you can but typical fares ranges P150-P200 for two people.

via private vehicle

From Manila, drive all the way to Tagaytay through SLEX or Cavite. You will reach the Nasugbu rotonda and drive until you reach the Nasugbu-Lian intersection. Take the Lian route (if Nasugbu, you'll reach Balayan) until you arrive at Calatagan Municipality. From there, you can ask the locals (they know the best way tbh) of where to head to Burot.
When in the vicinity, there will be a check point by two guards (in SM uniform) and will give you guidelines of the do's and dont's in the beach. They will hand you a large garbage bag as well. Lastly, you'll be paying P20 each (one time) for the maintenance of the private property.
LODGING
Don't expect grand accomodation when in Burot. You'll be pitching your own tents anywhere by the beach for an overnight stay. The tents, tables, and nipa huts are all available for rent.
tent (can accomodate 2-3 people)- P400
tables- P200
nipa huts- P300-P800
If you bring your own tent, they'll be charging you P30 each.
FOOD
The only source of food convenience, toiletries, and other commodities in Burot comes from a small sari-sari store. Prices are expectedly higher than the normal market price so you might want to bring your own food & drinks or do your shopping at the local market before heading to the beach. Besides, they do not charge for that.
ACTIVITIES
Activities offered by the resort are quite limited since they try to make the beach as unspoiled as possible.
beach volleyball court and net- free (bring your own ball)
bonfire- P200 per bundle
torch- P150 each
island hopping- P100-P120 each (group of 8-10)

Random fishermen call it island hopping but they'll just really drop you off at a near sand bar. Do not bite to the fisherman's bait because they can charge you more than the suggested price.

beach walks, long chats, drinking sessions, etc.
ETCETERA (Things to Remember)
Things that I suggest, things to take note, and what to expect in Burot Beach.
Bring a flashlight or any light source. There's no electricity in Burot. A flashlight may come in very handy.
Bring your own food and drinks. A bottle of 1.5L of soda costs P60. A toothbrush costs P50. A hotdog on stick costs P25. Your wallet will hurt if you rely your dining and other commodities to the small sari-sari store there. Also, tap water is not potable.
Comfort rooms are filthy but tolerable. The toilets are separated from bathing rooms and there's also a distinction for male and female rooms. But the toilet itself isn't decent which makes me think that Burot is not for the stagey.
Tone down after 2 A.M..Yes, I know you're literally living the beach life but everybody's expected to lower down their volumes past 2 in the morning.
Be responsible with your belongings. Leaving your tent unattended is a risk. Although we did it a couple of times and nothing was lost, I still do not recommend leaving your things without a watch over.
Respect everyone, the sea and the sea creatures as well. There are a lot of starfishes within the sea which you can play with (or take a photo with). But refrain from bringing them too far from the shore. They're living creatures meant to be in the sea and not in your home aquariums. Similarly, do not leave your garbage by the shore if you decided to binge eat and drink near the seawater.
Be careful with sea urchins and other sea creatures. There are sea a number of sea urchins near the rock formations and I'm sure you don't want to step on them. Don't worry because they're not stretching out all over the beach.
Here is a personal breakdown of expenses for two people. Food expenses is low because we brought our own snacks and drinks. We also did not avail the island hopping/sandbar drop off because there were no other people who bothered to try the activity. Please be noted as well that this was an overnight stay only.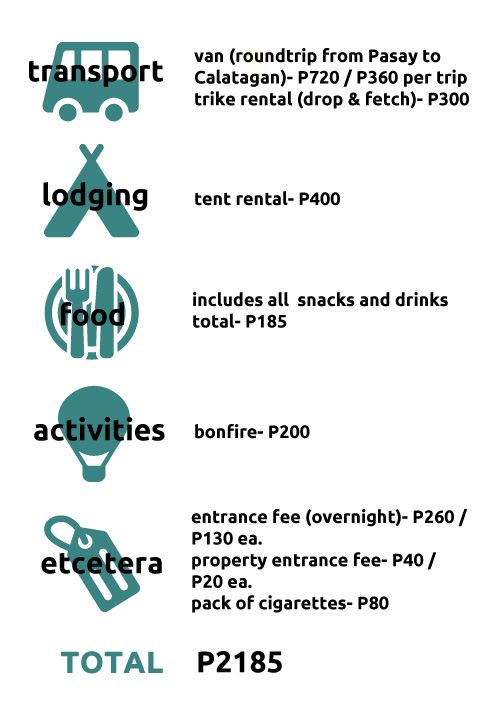 I hope I was able to send in some help to the people planning to visit Burot Beach. Do it right now before SM totally closes the property.
If you have questions, send me a mail (I love receiving mails.) or tweet me! 🙂
---
Check out my Burot Beach overnight experience here.