If you have been reading my The Sunday Currently posts, you probably know how I've been itching to go and travel Seoul since Chuseok Day. Thank god for time and we finally sealed a trip to the largest metropolis of South Korea.
The gang was composed of 3 Indonesian guys, 2 Germans, 1 Korean friend to serve as guide, and me, the lone Filipino. I just went with the flow with whatever plans they have in mind because I just really want my feet on Seoul, period. We decided to leave on a Friday, after lunch which means I have to skip my work. We planned to stay for 3 days and 2 nights, leaving on a Friday and going back on a Sunday. Also, 2 of the 3 Indonesian guys have to leave earlier because they had to look for the Japanese embassy there for visa stuff. Yes, they are going to Japan after this semester because it would still be semestral break in their home universities. Damn it. Damn. Lol.
The bus we took was the 13:20 bus which means an estimated arrival of 16:20-17:20 at Seoul since they say it takes 3.5-4 hours to get there by bus. I don't know exactly the line company of the bus that we took but it was neat, cool, and had comfortable seats. It cost each of us 18,000 ₩ (~Php 730).
We arrived at around 17:00 at the Seoul Express Bus Terminal which was also a subway station. We looked for the two Indonesian guys and immediately went to find our guest house.
We bought subway single journey tickets to Hongik University Station which cost 1650 ₩ (~Php 67) each. It could be refunded to 500 ₩ (~Php 20) at the end station of our destination though.
Almost everything I experienced here was my first time. Obviously because we don't have a subway in the Philippines. But whatever it is, I still have to compare the train system here and in my country. It was much convenient to ride the train here; first, because of its speed, and second, because of the discipline showed by the commuters. Everyone was lining up. Everyone was giving way to the passengers who shall board off the train first.
I forgot the name of this river but this was a wide river that we pass through on our way to Hongdae (Hongik University). The scene was so beautiful that even my iPhone camera did not do justice to it.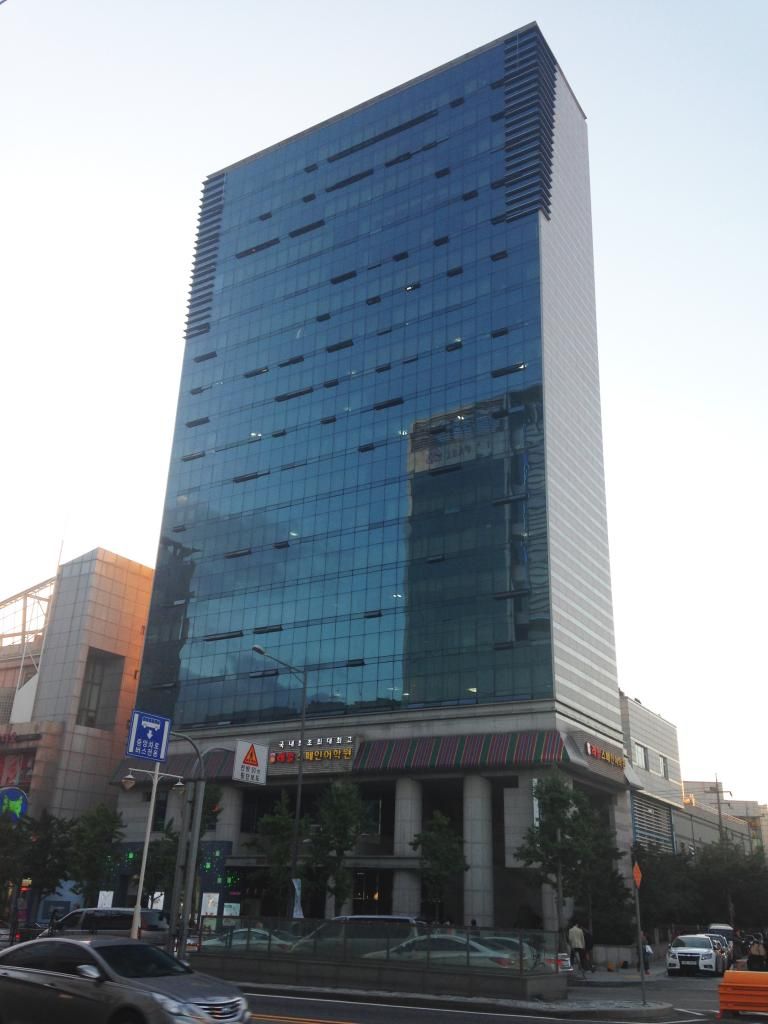 Upon arriving at the end station, we had troubles of finding the guest house. We were supposed to exit a specific gate number but we could not find our way to it. Instead, we went to another gate and got a little bit lost. To add, the location tracker of our Korean buddy crashed and so we were like having zero hopes at that moment. But the "amazed" tourist in ourselves got pretty satisified with what had welcomed us, these beautiful buildings.
To cut the long story short, we found the correct gate and were able to find our guest house. I wasn't able to take pictures of the actual rooms but I must say it was decent and fair enough with the cost that we have to pay. We paid a total of 16000 ₩ (~Php 650) for an overnight stay. The hostel was for the backpackers like us who would just like to drop of their luggage and just come back there after a long day trip.
And so, literally after dropping of our bags, we walked through the streets of Sinchon and waited at McDonald's for another Korean buddy. Right then, we had dinner at a meat-all-you-can restaurant around the place.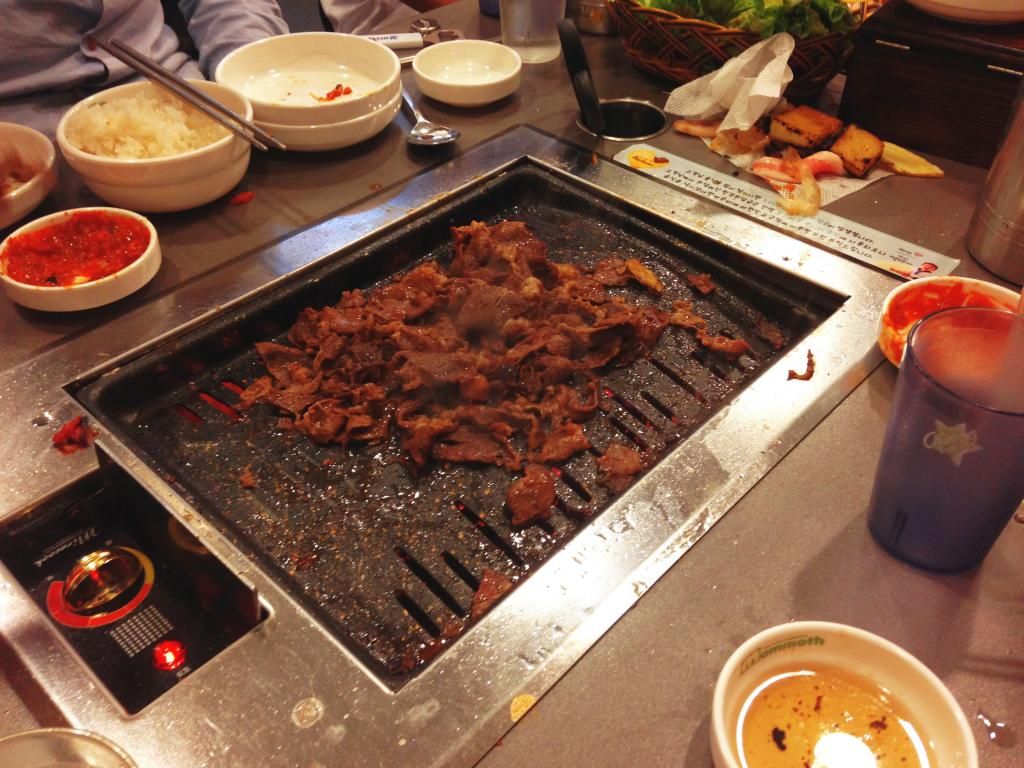 The 13000 ₩ (~Php 527) that we have to pay for the dinner was worth it. We devoured on high quality cuts of meat like samgyeopsal and chadolbaegi and even sausages. Likewise, there was so much side dishes too like rice, all sorts of salad and soup, topokki, and frozen fruits. I could say that I ate the hell out of my 13k bucks because I was so close to puking after having that feast. Lol.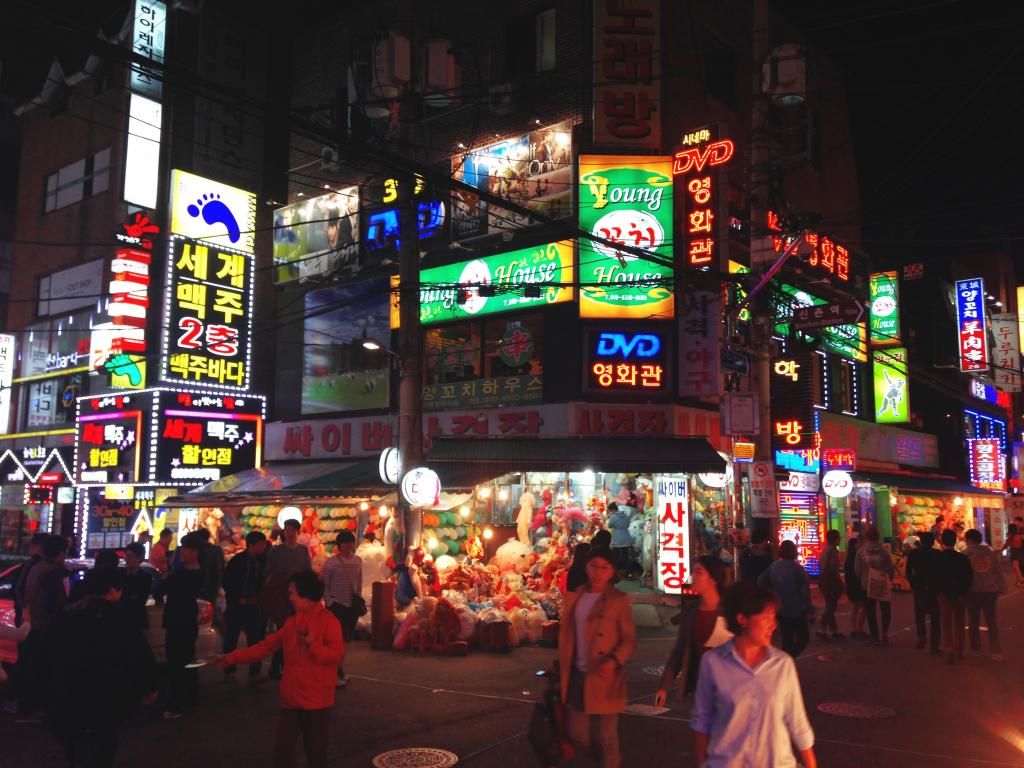 After dinner, the group contemplated on whether going to Namsan Tower or Cheonggyecheon Stream. Since it's a pretty long climb to reach the Namsan tower plus it was getting late already, we decided to push through the latter. We walked a couple of streets to finallt get to a bus stop.
We walked a couple of times but it did not matter since I was really enjoying what my eyes can see as of that moment. This was one of the numerous food stalls that you can eat out when you're a little budget conscious.
The bus to a bus stop (lol, I don't know the place) near the Cheonggyecheon Stream cost 1200 ₩ (~Php 50). We have to walk (again) for 15 minutes or so to get to that man made river.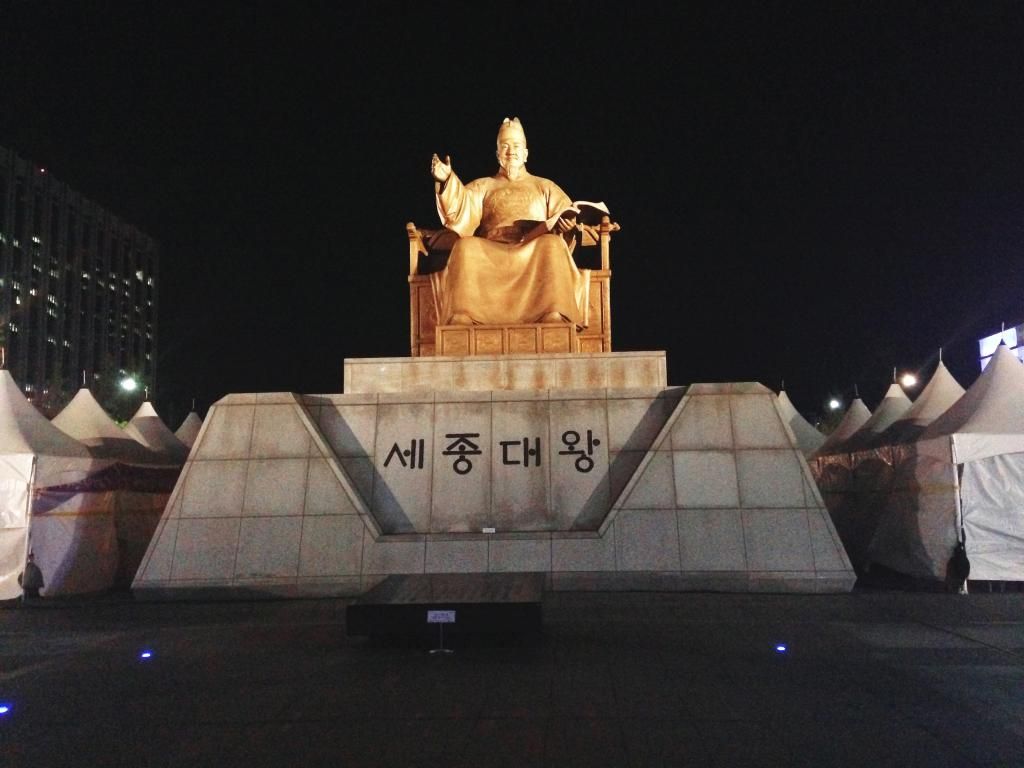 This is King Sejong. His most significant contribution to the Korean culture was the beautiful Hangeul language.
This, on the other hand, is Admiral Lee Soon Shin who fought bravely during the Japanese invasions.
This was just a traditional Korean structure that we passed by as well.
This building is just near the King Sejong and Admiral Lee Soon Shin monuments. I think this is a broadcasting company as seen by those camera setups.
The Cheonggyecheon Stream is a popular recreation space at downtown Seoul. I was really amazed that that long stream of river is just artificial. I also heard that during November 1st – 17th, a annual Lantern Festival is held here. Likewise, this place is also popular for couples who wants to hangout and meet without spending bucks. We spent a little less than an hour here and went back to Hongik University (via subway 1650 ₩ (~Php 67) ) which is known for clubs and bars.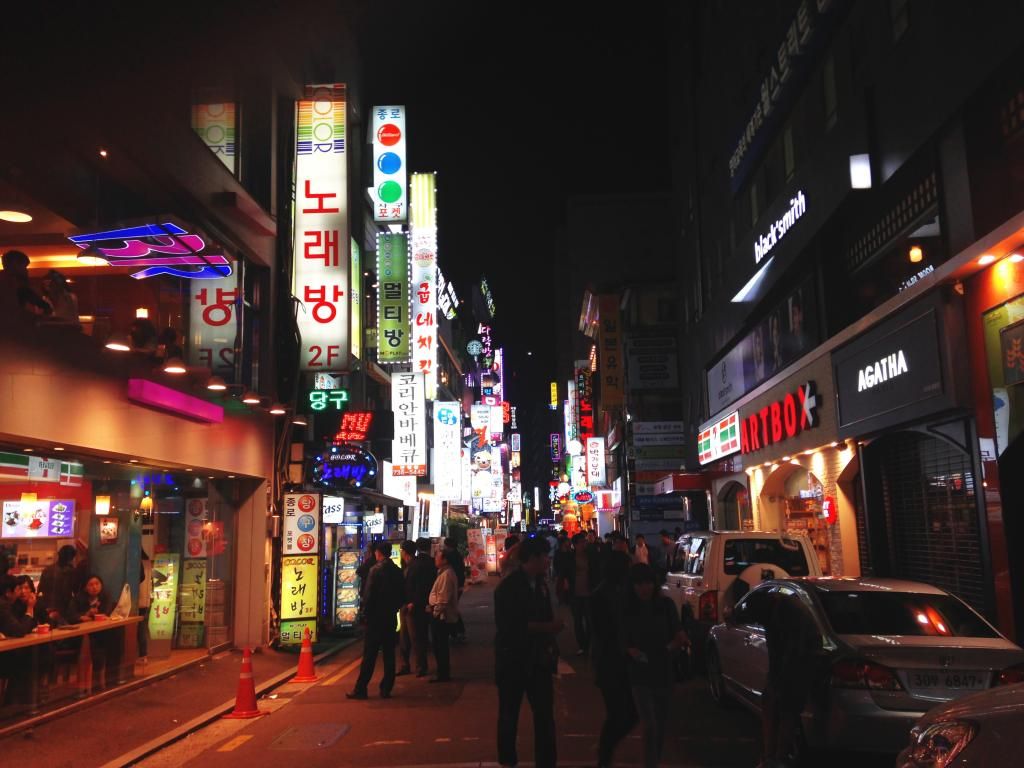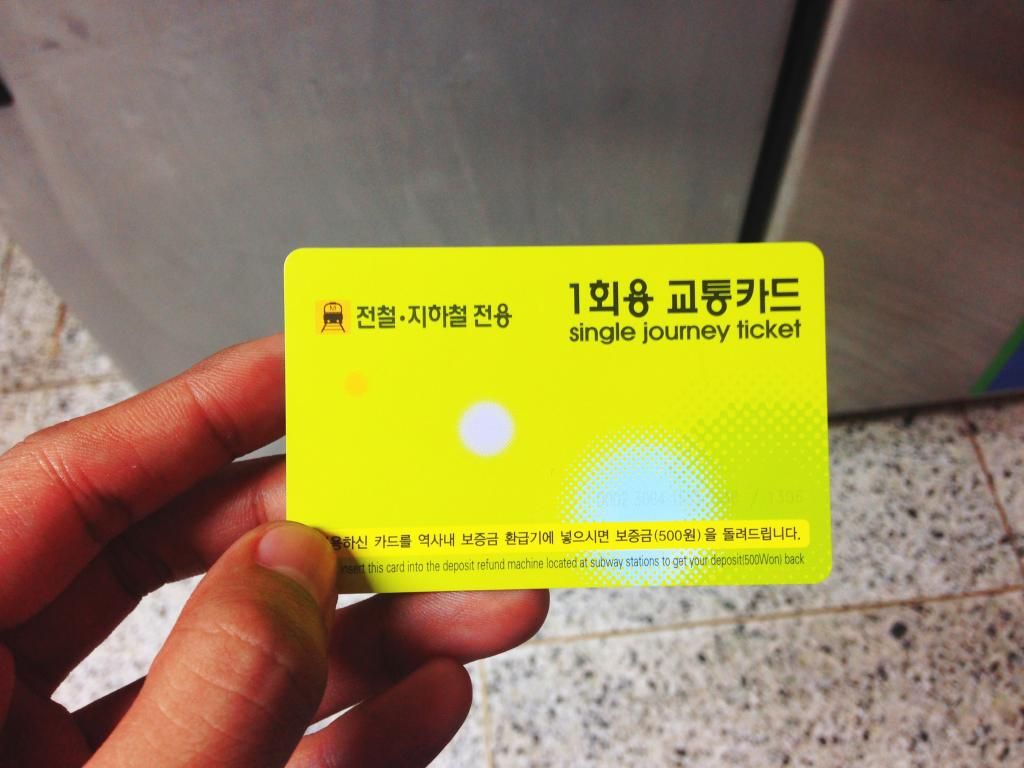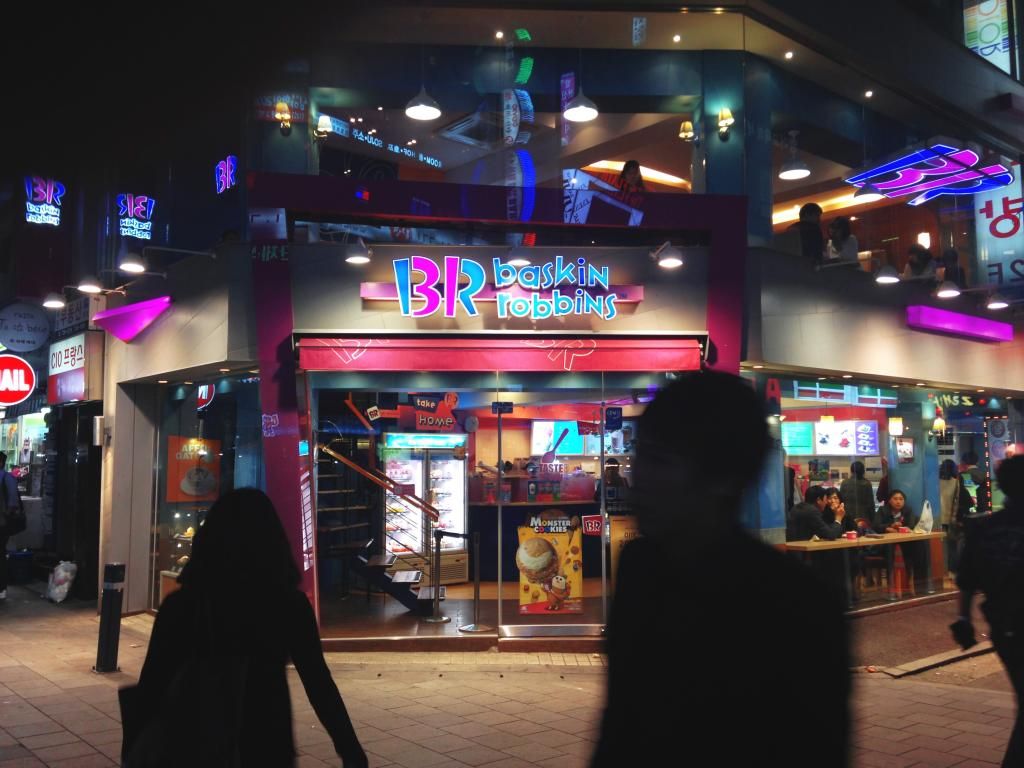 Yes, we really did a lot of walking before reaching the nearest subway station.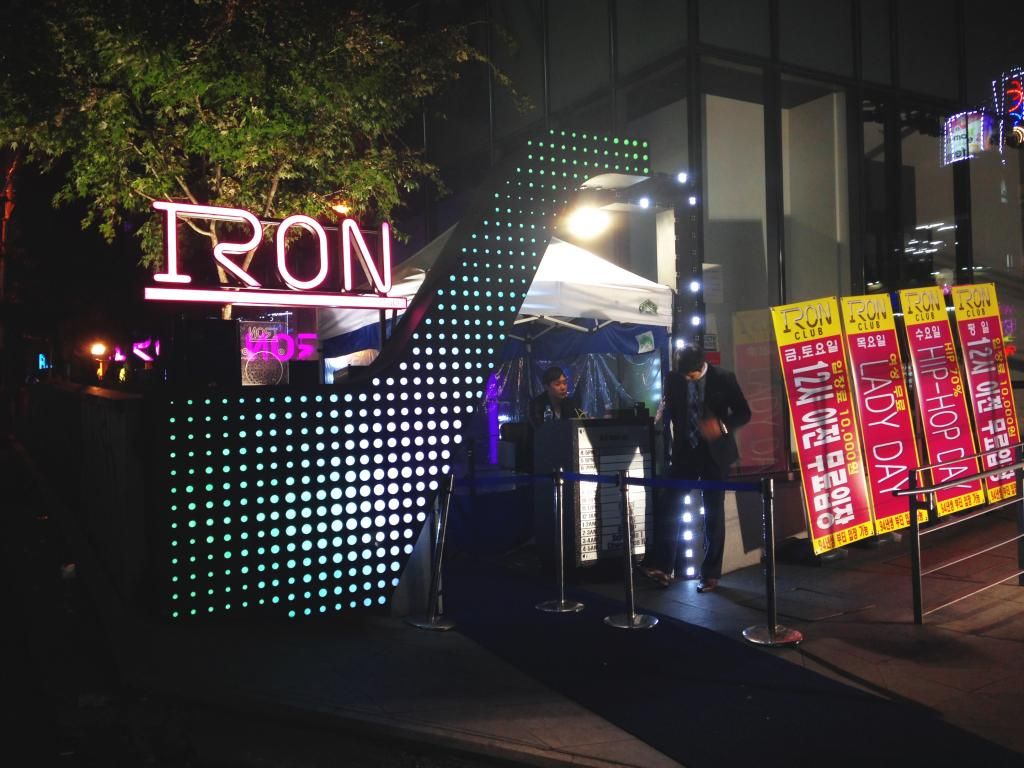 This is the Hongdae Area. It is named such because it is near Hongik University, "Hong" from Hongik and "-dae" which means college, hence Hongdae. This region is very famous for urban arts and indie music culture, clubs, bars, and entertainment. Walking along this street, I saw alot of foreigners who's on the same age bracket as we are.
The thing is, we failed to enter a bar. Boo that, yeah? The Germans and I really wanted to go in Cocoon Club but some of our friends isn't cool with the idea. We were so close to dancing our asses off and drinking till morning but it ended up going back to our hostel. What a way to end up Day 1. At least, everybody was cool with it, I guess.
Before I end this post, some trees along Seoul really got my curiosity. Notice that they have those dextroses attached to their trunks. I wonder what's the purpose of those medical supports. Are these trees sick or something? Lol.